Outreach
We believe in loving and caring for our neighbors.
At St. Martin's, we are convinced that the best days are those spent in service to others. We regularly support events and ministries like…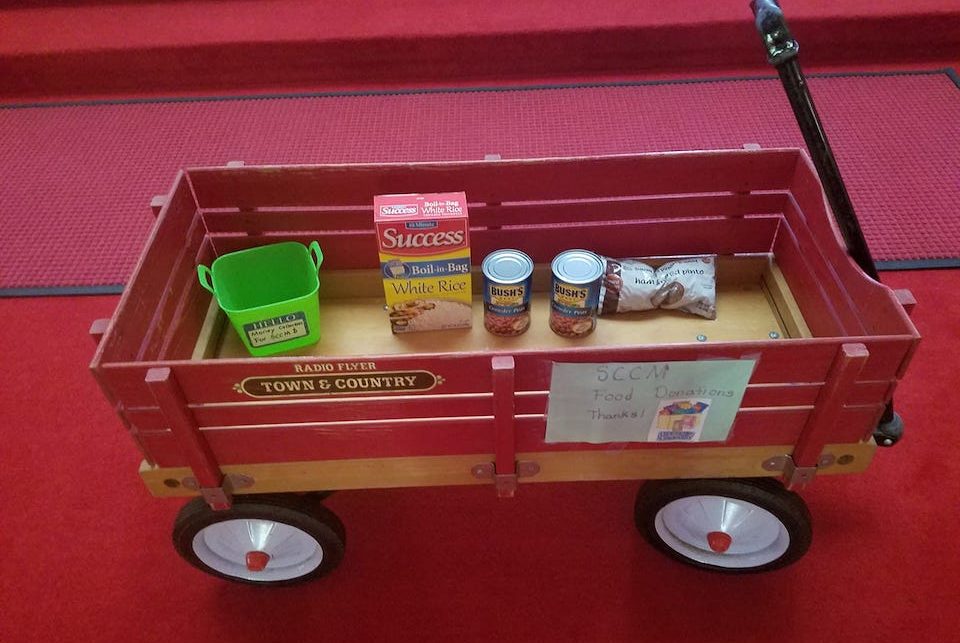 Feeding the hungry through the Community Table and Stanly Community Christian Ministries, regular food collections by the congregation and Backpack Program for local children.
Community Table: a local soup kitchen that relies on volunteers to provide a lunchtime meal for those who are in need. Our congregation prepares and serves meals at the Community Table several times a year. Many volunteers are needed to plan and prepare the meal, serve the meal and cleanup afterwards. This is a rewarding opportunity to feed those in need.
Little Red Wagon: Our congregation has the opportunity each month to help support SCCM Food Pantry. On the 3rd Sunday of each month, the church children pull a little red wagon down the aisle to collect the items form the congregation that SCCM has requested for that month. Monetary donations are also accepted at the time. The children enjoy this opportunity to participate in helping;ping needy families in the community.
Backpack Program: A community project that supports community children who live in poverty. These needy children have meals provided at school during the week, but on weekends, food may not be readily available. We provide food packed into backpacks to be distributed to these children on Fridays to help with their hunger relief.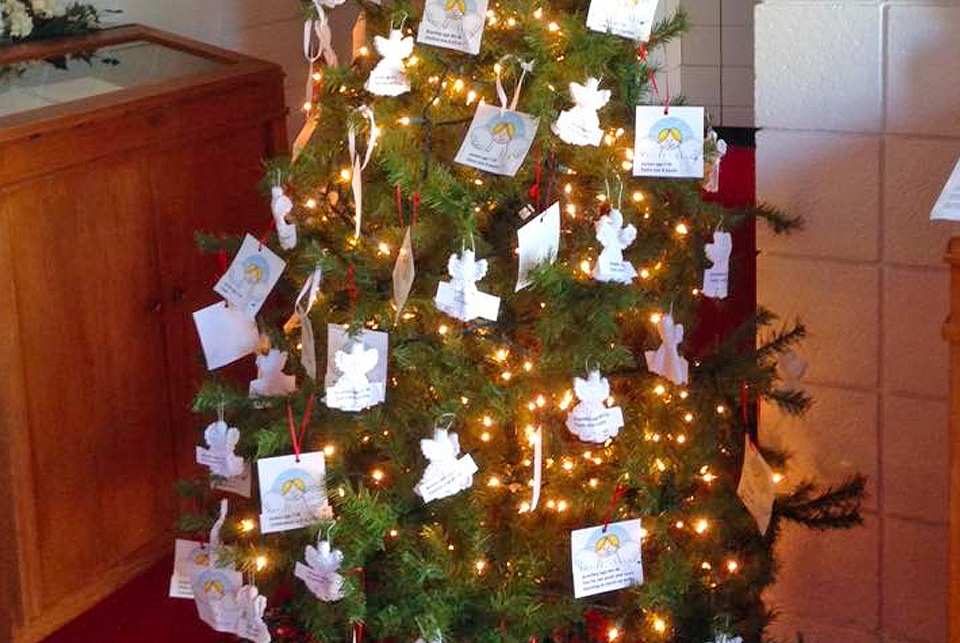 Providing hope at Christmas through the Angel Tree and on Thanksgiving with food baskets.
Hosting birthday parties for residents of the Trinity Place.
Angel Tree: Our W.A.G.S. youth put up an angel Tree at the church in early December. We sponsor at least one family in need each year. Hand crocheted angels are hung on the tree, with Christmas gift wishes from family members, written on slips of paper, each attached to an angel. Members are asked to take a slip of paper from the tree, leaving the angels as decoration. These angels are precious to us as they were lovingly crocheted by a late member of our church, many years ago. After purchasing the gift, members bring the wrapped gift to church and place them under the tree by the designated date. The gifts are then delivered by members of the W.A.G.S. youth just before Christmas.
Trinity Place Birthday Party: Once a year, our church hosts a birthday party for the residents at Trinity Place who have birthdays during the month that our church is hosting. Cupcakes and refreshments are enjoyed by all and a useful gift is given to those who are celebrating birthdays. Afterwards our church organist plays favorite hymns on the piano for all to enjoy and singalong. A great time is guaranteed to the residents and those helping as well.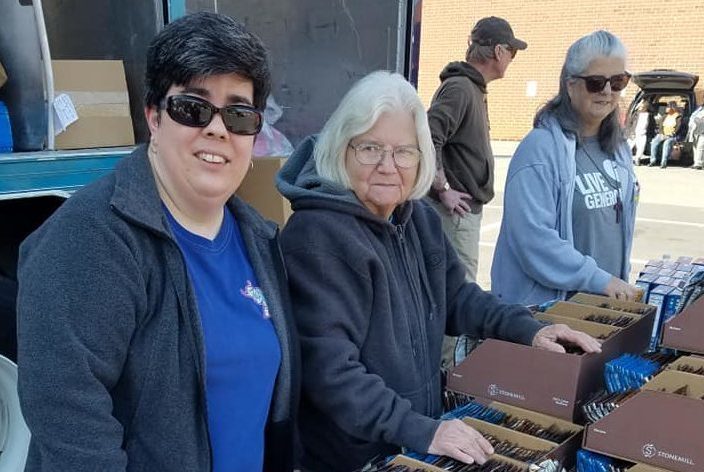 Sponsoring Souper Bowl Sunday, collecting supplies for schools (Boxtops for Education) and providing food (Second Harvest Food Bank) for those in need.
Boxtops for Education: This national program was created to help support education and benefit America's schools. Our congregation collects boxtops to support this beneficial program.
Second Harvest Food Bank: This mobile food pantry truck sponsorship is an important outreach opportunity that allows us to help upwards of 200 families in our community with groceries to feed their families. Our congregation often collaborates with Pine Grove Methodist Church to either sponsor or help with the food distribution. Volunteers arrive early to help set up tables, unload the truck, separate the different grocery items, distribute the food and cleanup the empty cardboard boxes and tables. This is a wonderful opportunity for our members to directly assist those in need.
Souper Bowl of Caring: This is a national event that takes place around the time of the Big Game. It gives our youth an opportunity to participate by raising money to fight hunger and poverty in our community. Donations are  collected from the congregation on Super Bowl Sunday in soup. pots and a lunch of soup is served for donations to this worthy cause.
Pastor Phone
828-612-1595 (call or text)
Physical Address
16592  St. Martin Road
Albemarle NC 28001
Mailing Address
PO Box 429
Oakboro, NC 28129
Pastor Office Hours
Monday -Tuesday-Thursday 10:00am - 4:00pm, by appointment
Wednesday: Sermon and Bible Study Preparation Day
Friday: Day off